Arena Policies
Bags that DO NOT meet these requirements must be returned to the patron's vehicle or stored in a locker (lockers are limited & subject to availability - located outside GATE A). Lockers do have a cost associated depending on the locker size you select.
Parental/Medical bags are allowed inside (subject to search) and cannot exceed a 12" x 14" dimension.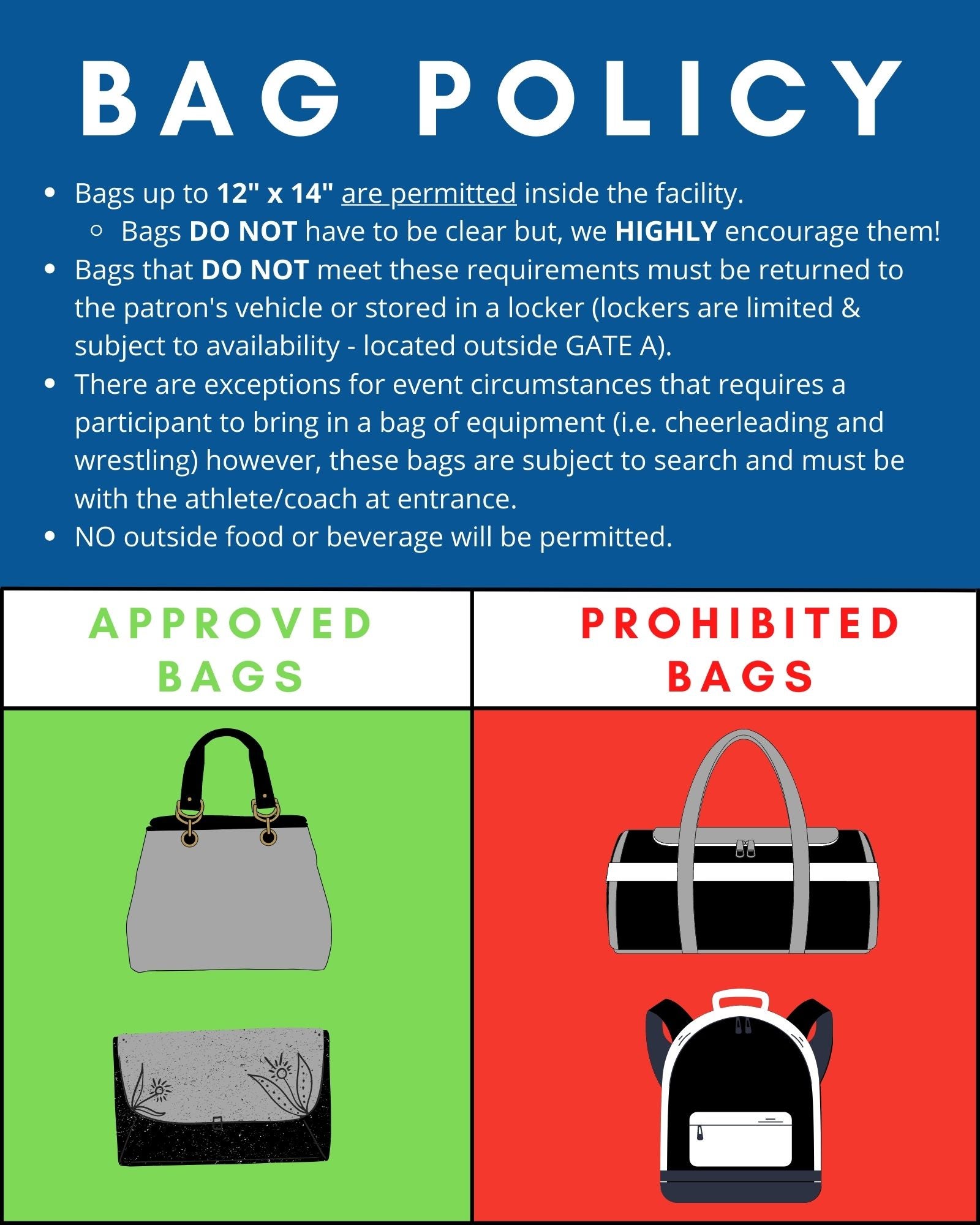 Cheerleading Guidelines & Policies
GENERAL DECORATING GUIDELINES
Banners & Signs – Signs, banners, or similar items that are obscene or indecent, not event-related, potentially offensive to other patrons, capable of blocking the views of other fans or otherwise deemed dangerous or inappropriate by the CURE Insurance Arena are prohibited. They may not contain commercial messages, logos, or political endorsements, and may not be hung on the arena seat number signage or sponsors. Signs, flags, and banners of any size attached to poles are prohibited. Signs, flags, and banners made of wood, metal, plastic, or other hard material is prohibited. CURE Insurance Arena reserves the right to confiscate signs that are in violation of arena policy.
Balloons – NO balloons of any kind are permitted in the building.
Tape/Adhesive – The ONLY tape that is allowed to be used is painters tape or poster putty. The use of other tape (such as scotch tape, duct tape, gaff tape, etc.), wires, tacks, nails, glue, command strips, and the like to hang decorations is prohibited. Stickers and adhesive backed decals are not to be given out in or around the building. Nails and screws are not to be driven into the arena floor and walls. All decorations must be placed and removed without leaving damage. Costs to repair any damages or removal of unapproved adhesive tape will be the responsibility of licensee/suite holder.
General Obstruction – Decorations CANNOT cover any arena signage (seat/section numbers, sponsors), exit doors or lights, or fire alarm pull boxes. Nothing is allowed to be hung from any sprinklers, the ceiling, or obstructing any exhaust vents.
Glitter and Confetti are NOT permitted.
Battery Powered Lights are permitted. NO electrical outlets are allowed to be used for plug-in lights.
EVENT SPECIFIC POLICIES
Speakers – Speakers are permitted for teams only, but CANNOT be in use close to entrances and must be kept at a reasonable noise level, to be enforced by CURE Insurance Arena staff.
Megaphones – Megaphones are only allowed to be used by teams on the competition floor and warm up mats. They may NOT be used on the concourse or suite level.
Rehearsing – Cheer teams may find open space on the concourse to perform small rehearsals, however and music volume must be kept at a reasonable level and CANNOT obstruct any vomitories/portals, entrance gates or entrance areas, exit doors, concession stands, concession stand lines, merchandise lines or disrupt normal ingress/egress in corridors.
Cheerleading Equipment/Backpacks – Any equipment (backpacks, approved lunches, equipment, megaphones, speakers, etc.) belonging to a competitor MUST be brought in by the competitor.
Noisemakers – Policy varies per event organizer. In general, no airhorns are permitted. Please contact the arena with any questions.
Failure to comply with the above policies may result in ejection or removal of prohibited items.
No alcoholic beverages may be brought into the CURE Insurance Arena. Alcoholic beverages will be sold by OVG Hospitality during events. No alcoholic beverages may be consumed in the parking lot.
Cameras and Recording Devices
As a general rule, professional cameras, video, flash photography and recording devices are not permitted inside the Arena. This is subject to change on an event-by-event basis. Patrons should always view the event detail page for any specific camera/recording policy changes. If by chance, a guest brings a camera or recording device to an event, the guest will be asked to return that item to his or her vehicle. The Arena cannot hold any personnel property belonging to a guest.
NO balloons are permitted in the building. The cost of removing excessive tape will be the responsibility of the tenant. Stickers and adhesive backed decals are not to be given out in or around the building. The ONLY tape that is allowed to be used is painters tape.

Nails and screws are not to be driven into the arena floor and walls. Decorations can NOT cover or obstruct ANY area signage.
CURE Insurance Arena strives to provide its guests with a safe, comfortable, and enjoyable atmosphere. Therefore, the Arena has established the following guidelines:

1. Guests interfering with other guests' ability to enjoy the event may be subject to ejection.

2. Guests using foul or abusive language, or inappropriate or unacceptable gestures may be ejected from the Arena.

3. Guests appearing impaired may be ejected from the Arena and turned over to the authorities.
Distribution of any printed materials, or selling of any items is prohibited on the CURE Insurance Arena grounds, including the parking lots, walkways, and inside the Arena unless permission from CURE Insurance Arena management has been granted.
Once a guest leaves the Arena during an event, there is no re-entry permitted unless another ticket is purchased. Re-entry may vary depending on the event, always refer to the event's detail page for this information.
Re-selling of Tickets (Husktering/Scalping)
Re-selling of tickets by private parties is prohibited on CURE Insurance Arena property.
Selling of Illegal Merchandise (Bootlegging)
Selling of illegal merchandise (merchandise not sold under the approval of CURE Insurance Arena management) is prohibited on CURE Insurance Arena property as well as by law.
Smoking is not permitted inside the CURE Insurance Arena and there are NO designated smoking areas.
CURE Insurance Arena owns signage rights inside and outside the Arena. Advertising signs or banners tenants wish to display must be pre-approved by CURE Insurance Arena management.
Aerosol cans
Air horns
Alcoholic beverages or illegal drugs
Animals (except certified service dogs for the disabled)
Balloons of ANY kind
Beach balls and other inflatables
Bota bags or wine skins
Bullhorns or noise makers
Cameras or recording devices (varies by event)
Confetti
Fireworks, firearms
Weapons of any kind
Framed Backpacks
Glass bottles or aluminum cans
Ice chests (coolers) or thermos containers
Laptops
Laser pointers
Outside food or beverage
Skateboards or roller blades
Signs bigger than 18" x 24"
Sticks or clubs (including signs attached to sticks)
Stools or folding chairs
Water bottles or mugs
Outside food and beverages, including water, are not permitted inside CURE Insurance Arena. The arena offers a wide variety of food & beverage options at all concession locations. For more information on these offerings, visit our Concessions page.
Metal Detectors (Magnetometers)
Ensuring the safety of our guests is always a top priority. Please be advised that for all events, CURE Insurance Arena venue security will utilize walk-through metal detectors (magnetometers) to search all patrons entering the facility. Customers should keep the following in mind:
Minimize the number of personal items you bring to the venue.
Allow extra time for arriving to and entering the venue.
Guests will be asked to remove from their clothing and belongings any items that may trigger the alarm, including cell phones and keys, before they pass through the metal detector (magnetometer) units.
Bags will be searched.
If the metal detector (magnetometer) alarm sounds, you will be subject to a secondary screening which may slow your entry into the venue. If the metal detector still alarms after three screenings, you may be subject to a pat down.
The same list of venue-prohibited items will still apply.
It is at the discretion of venue management as to what events these units will be in use for.